Strength to Endure es la canción número 5 del disco Mondo Bizarro, editado en el año 1992.
Escuchá Strength to Endure

Clip de audio: Es necesario tener Adobe Flash Player (versión 9 o superior) para reproducir este clip de audio. Descargue la versión más reciente aquí. También necesita tener activado Javascript en su navegador.
Comentario de J.G.
Hoy se están cumpliendo 8 años desde el día en que murió Dee Dee Ramone y tenía ganas de recordarlo. Elegí la canción Strength to Endure primero porque está tremenda, y segundo porque fue compuesta por Dee Dee para el álbum Mondo Bizarro muchos años después de haberse desvinculado de la banda.
Dee Dee fue el Ramone más creativo. La mayoría de los temas que te resuenan en la oreja seguramente hayan sido compuestos por él.  Recuerdo una entrevista en donde, a modo de queja, decía que sus compañeros de banda eran muy limitados para componer y que las pocas veces que traían una canción él tenía que darles una mano para terminarla. Como se hacía el loco ese muchacho!
No tuve suerte de verlo sobre un escenario Ramonero porque la primera vez que fui a un recital de los Monchos ya estaba CJ en el bajo. Sin embargo, sí lo pude ver como solista hace muchos años en un lugar en la avenida Rivadavia y les puedo asegurar que a nivel emocional fue un recital majestuoso. Temas de Ramones uno tras otro, de los clásicos y también de esos que están medio perdidos por los discos pero que no dejan de ser verdaderas obras maestras.
Por si no lo saben, la intención de Dee Dee en los comienzos de la banda era ser bajista y cantante. Pero como su voz se mermaba a las pocas canciones y como también le costaba cantar y tocar el bajo al mismo tiempo, fue Joey quien salió de la batería y ocupó el lugar de frontman. Y la  verdad que no se equivocaron porque, si bien a Dee Dee lo banco a muerte, lo cierto es que no canta para nada bien. ¿Alguien vio como canta Love Kills en el show despedida de Ramones en 1996 en Los Angeles?
Y para terminar dejo estas preguntas que si alguno lo desea puede contestar. ¿Qué sería de la música punk si Dee Dee no hubiese existido? O ¿qué sería de todos nosotros, amantes de este solemne género musical, si este personaje no se hubiera cruzado en Forest Hills con Johnny, Joey y Tommy?
A continuación video tributo.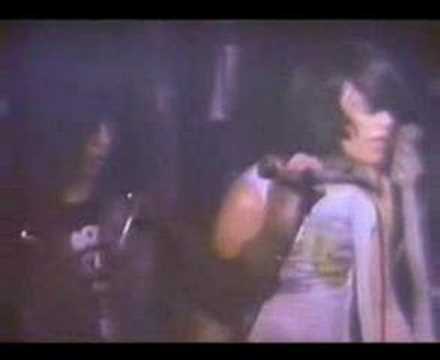 Walking through the cross fire heart
Feeling heavy and hopeless.
Wonderin' how I ever willsee
Through this darkness.
Every drop of blood can be
So beautiful
And I sure was bleedin' the drops by
The bucketful.
I have the strength to endure
And all the love so pure
I have the strength to endure
Because… because…
I'm not afraid to tell her
Just how things work.
Ride a hurricane
Through the fast lane
Always looking over my shoulder
She said, "there's something about you,
And neon lights always gow hot.
Baby we can see this through,
Just give me all the strength
you've got".
Links para consultar